Restless Adventurer
Adventure Travelogue and more: Caving, Long Distance Backpacking, Mountaineering, Worldwide Misadventures, et cetera...
Most Recently Added:
Now with regenerated picture galleries! The medium size pictures are being upgraded from 800x600 to 1024x768.
24-25 Aug 2018: CO State Championship
I made of video of some of the stages. CO State Match. I shot a CZ Custom 75 B in the Stock Service Pistol (SSP) division and am classified as Sharpshooter (SS). I was middle of the pack.
The match was held at the newly constructed, world class, Cameo Shooting and Education Complex. 15 minutes away from hotels and the Grand Junction Airport. Easy access. Tier 3 match. $125 match fee. Lunch is included. We ordered a few extra t-shirts but can't guarantee a shirt for registrants after August 4th. 12 stages with creative props and stage design. Round count is 202 (bring at least 250 rounds). PCC & BUG not supported. SO's and staff will shoot on Friday August 24. Competitors will shoot on Saturday August 25. Match is hosted by the Action Pistol Group of Grand Junction.
I'm driving out on Thursday after work because I am signed up for the Friday practice/training session.
Join me for a quick Tune-up session before the 2018 CO IDPA State Championship at the brand new Cameo Shooting and Education Complex. The class will be held in the same range, from 12PM-6PM on August 24th, the Friday before the main match on Saturday. We will be focusing on tuning up all of your fundamental skills before the match, ensuring you have the best performance possible. Expect to work harder in the class than any match you've ever shot, or ever will shoot.

Since there are many people traveling in on Friday, I worked with Walt and we will be training from 12PM-6PM, so we'll get almost a full day's worth of shooting even with the offset schedule to allow for travel. The $80 class fee includes your range fee, so you'll just need to bring an extra 5-600 rounds for the day!
17 Aug 2018: First Care Provider
Step Up Medical Training in conjunction with Outer Limit Supply will be hosting a First Care Provider class on August 17 from 6 pm - 10 pm. This program was designed to fill the void between calling 911 and when professional help arrives. As most of us know, waiting 5-8 minutes for a fire engine and ambulance to arrive can feel like an eternity!
Through this training we can empower you to "Be the help" when critical minutes, even seconds count! Anyone with the willingness to make a difference in situations ranging from work/home related accidents to the unthinkable atrocities that we see in the news can be a First Care Provider. Gaining this knowledge will make a difference when unforeseen circumstances present themselves.
07 July 2018: Edible and Survival Plants of the Rockies
Another class with Cattail Bob.
03 July 2018: Survival Overnighter
I parked at the trailhead and left the vehicle behind with just what was in my pockets and my knife mounted survival kit. This was an overnighter with very mimimal gear. I made a video of it here: Survival Overnighter on the Colorado Trail.
01 July 2018: Colorado 4x4 Rescue and Recovery: Recovery Skills 2
The good times continue with the second class in the recovery series. The first one was very educational and fun. This one will be more hands on. It's down in Colorado Springs on Sunday. The apocalypse vehicle needs some upgrades to take advantage of all this education.
23 July 2018: ARRL Field Day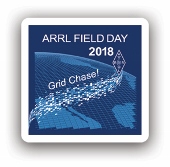 Field Day is ham radio's open house. Every June, more than 40,000 hams throughout North America set up temporary transmitting stations in public places to demonstrate ham radio's science, skill and service to our communities and our nation. It combines public service, emergency preparedness, community outreach, and technical skills all in a single event. Field Day has been an annual event since 1933, and remains the most popular event in ham radio.
The Objective is to work as many stations as possible on any and all amateur bands (excluding the 60, 30, 17, and 12-meter bands) and to learn to operate in abnormal situations in less than optimal conditions. Field Day is open to all amateurs in the areas covered by the ARRL/RAC Field Organizations and countries within IARU Region 2. DX stations residing in other regions may be contacted for credit, but are not eligible to submit entries.
My setup was very basic. I simply used my mobile installed ham radios from the top of the Continental Divide. My only HF radio is a President Lincoln II which does 10-11 Watts on 10 and 12 meter. 12m was not part of the contest so I tried 10 meters and when the band opened up for a couple hours on sunday it was really fun. I only made a few contacts but I reached as far as California, Texas, Oklahoma, and British Columbia. I heard stations from all over the USA. Here is my video on Field Day: Field Day 2018. This is my mobile setup: Comms Setup.
02 June 2018: Colorado 4x4 Rescue and Recovery: Recovery Skills 1
I joined Colorado 4x4 Rescue and Recovery a few months ago and this was my first chance to enroll in the recovery class. The group exists to aid in rescue and recovery of offroaders that are in a predicament.
We are an all-volunteer organization committed to recovering people and their vehicles from the backcountry when things go wrong – we take someone's worst day and hopefully make it a little better. The organization fills in a gap between traditional Search and Rescue and commercial towing companies. Search and Rescue organizations perform emergency, medical, high risk, extractions on foot or by ATV. Commercial tow companies generally avoid forest service, 4WD, and other back country roads they aren't equipped to traverse. We sometimes work in difficult weather, at night, and at high altitude in sometimes dangerous and challenging conditions.
19 May 2018: Edible and Survival Plants of the Rockies
Apex Park
121 Heritage Rd
Golden, CO 80401, United States
Please bring: One liter or more of water Snacks or lunch
Details
• What we'll do
Did you know that there are plants growing along creeks and hills in the Denver area that can be used to treat a toothache, help disinfect a wound, or make rope?

Plant knowledge is crucial information for anyone who spends time outdoors from the amateur hiker to the professional ecologist. Your nature experience is enriched when you can find and identify useful plants growing all around you. In fact, this knowledge could be used to save your life.

Spend a full day with Cattail Bob finding, identifying, sampling over one hundred edible, medicinal, poisonous (don't sample these), tool making, and smokable plants that grow everywhere in the Denver Front Range.
"One travels more usefully when alone, because he reflects more."

— Thomas Jefferson

previous quotes